Industry Solutions
Diverse Products for Diverse Markets
Engineered solutions with BTM standard, modular and industry focused sheet metal production equipment and tooling for Clinching, Piercing, Shearing, Bending, Forming, Coining, Tabbing, Mechanical Fastener Insertion and Work Holding. With over 20,000 equipment and tooling designs, BTM has a solution for you.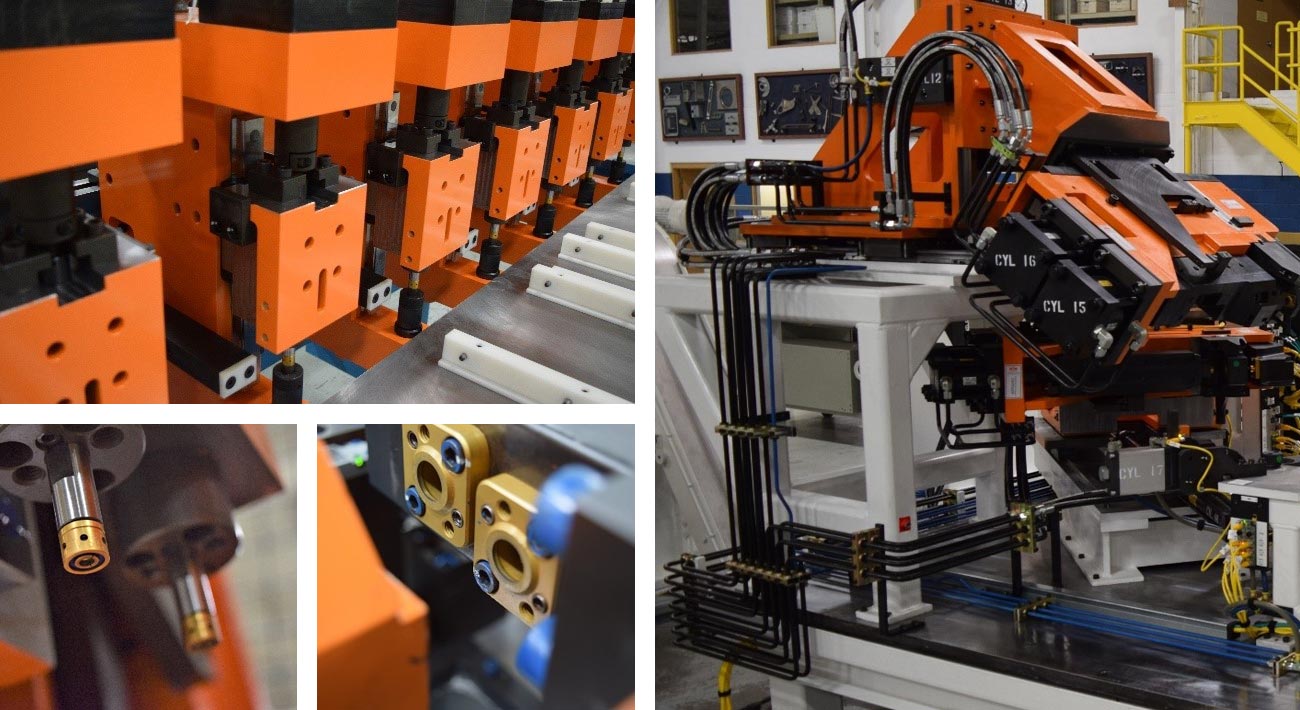 Automotive
BTM offers equipment and tooling solutions for the automotive industry.
Engine Cradle Piercing
Truck Frame Piercing
Hinge Piercing
Shock Tower Piercing
Bumper Piercing
A-Class Surface Post Piercing
Battery Tray Piercing
Plastic Component Piercing
Servo Piercing
Body Panel Clinching
Structural Clinching
Component Clinching
Fuse Box Connections Clinching
Heat Shield Clinching
Moon Roof Clinching
Mechanical Fastener Insertion
Bushing Insertion
Servo Clinching
Pin Clamps
Power Clamps
Pin Locators
Part Locating & Holding
Door Trim Shearing
Strap Shears
Crush Can Shears
Conical Forming
Swaging Dies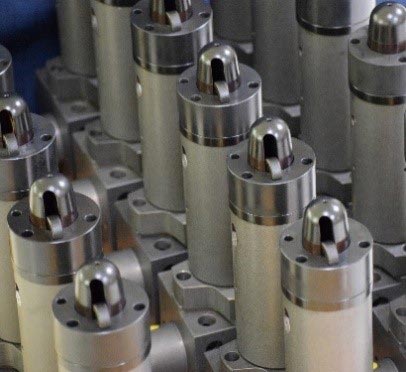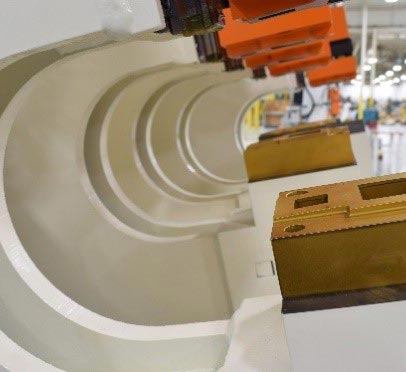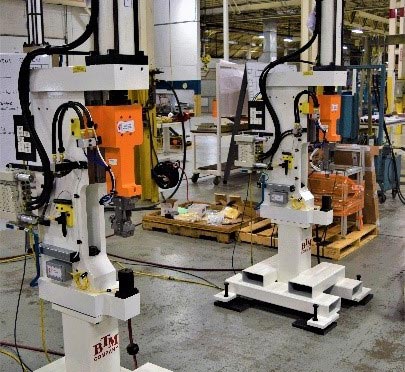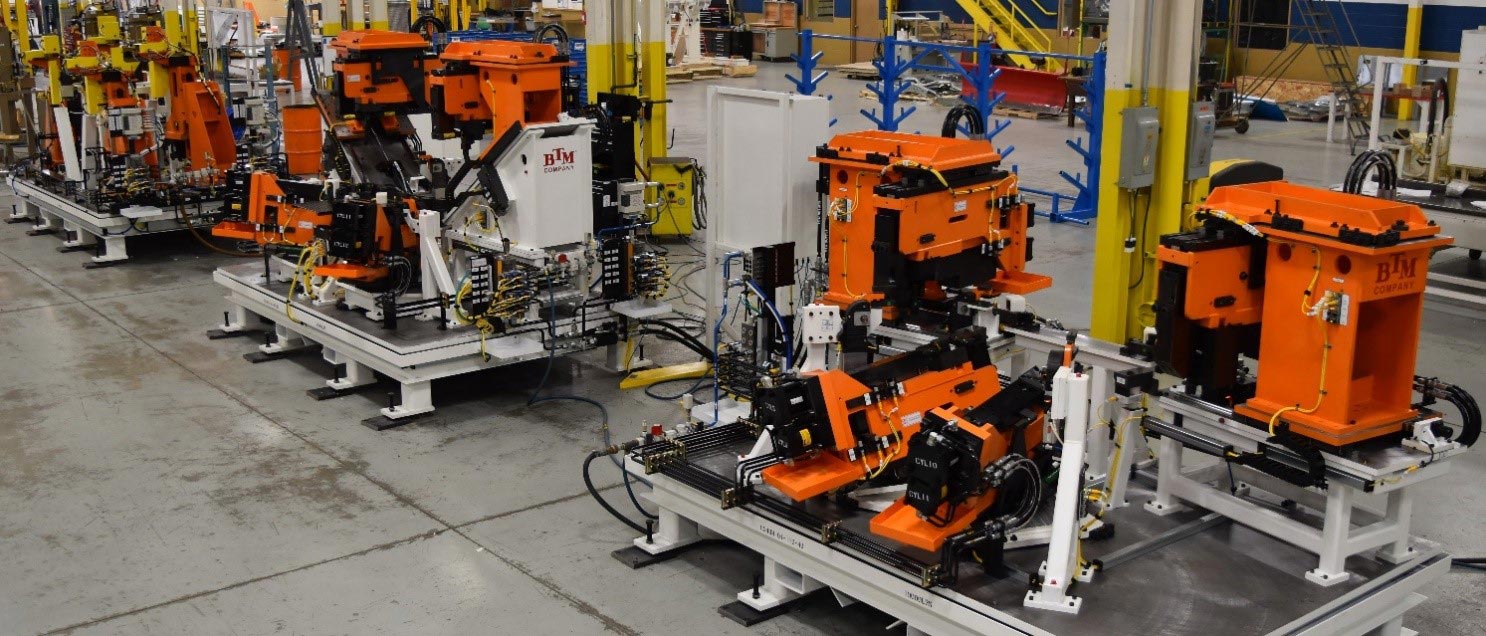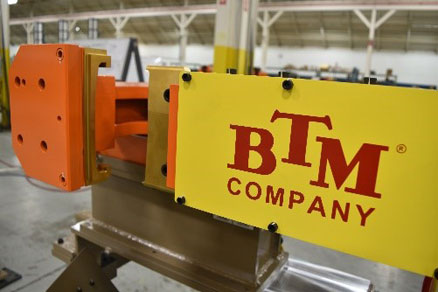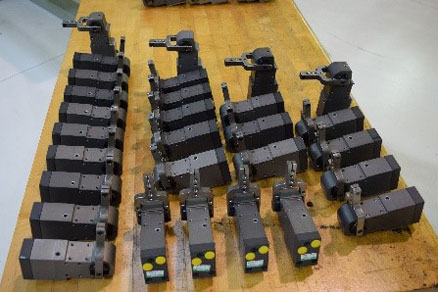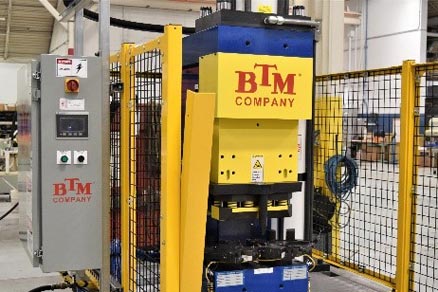 Appliance
Equipment and tooling for appliance assembly and manufacturing.
Dishwasher Frames
Refrigerator Frames
Washing Machine Frames
Servo Clinching
Oven Frames & Drawers
Microwave Oven Housings
Transmission Housings
Plastic Component Piercing
AC Frames & Components
Water Heater Burner Units
Furnace Frames
Furnace Burner Units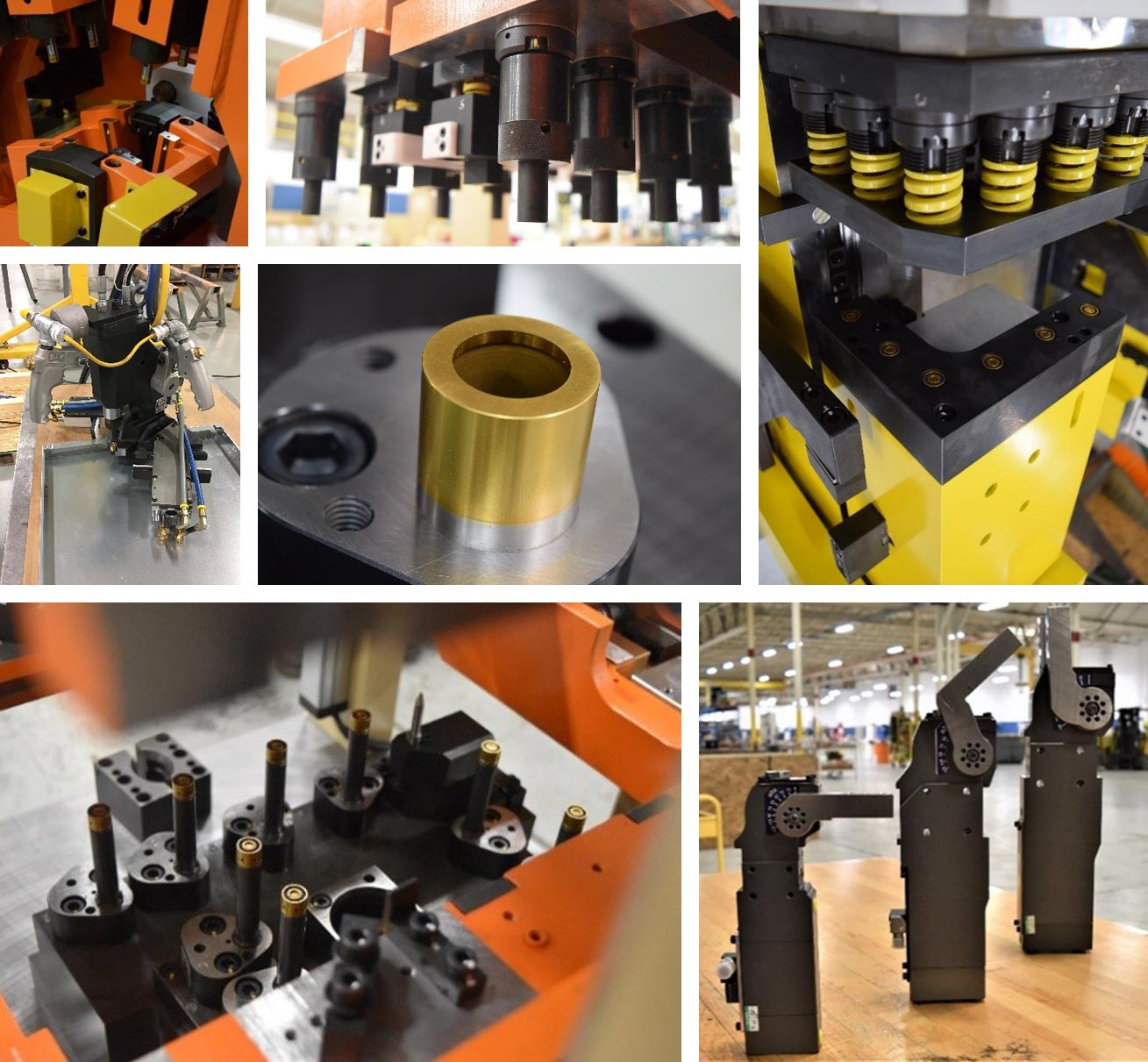 HVAC
Floor presses, hand-held clinch presses, die sets, production fixtures and custom machines for high-volume sheet metal joining and forming.
Housings
Heating Systems
AC Systems
Refrigeration Systems
Clamps
Plenum Boxes
Filter Frames
Filter Housings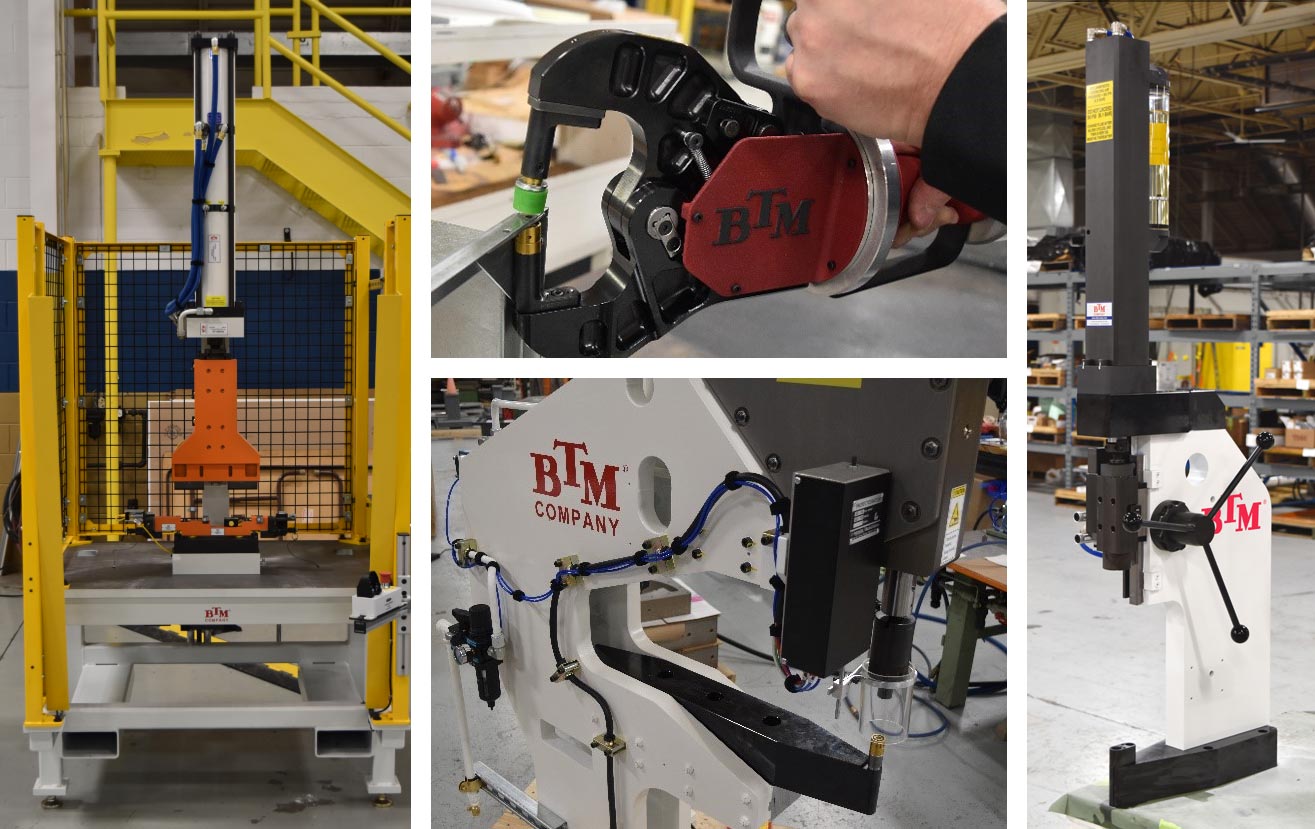 Construction
BTM has equipment and tooling systems for joining and forming sheet metal for building products and construction.
Roofing Systems
Window Frames
Door Frames
Swimming Pools
Lighting Fixtures
Cable Tray Systems
Mailboxes
Structural Components
Metal Framing Systems
Furnaces
AC Systems
Water Heaters
Channel Lettering
Shelving Systems
Cabinet Drawer Tracks
Fireplaces
Gas Burners
Elevator Structures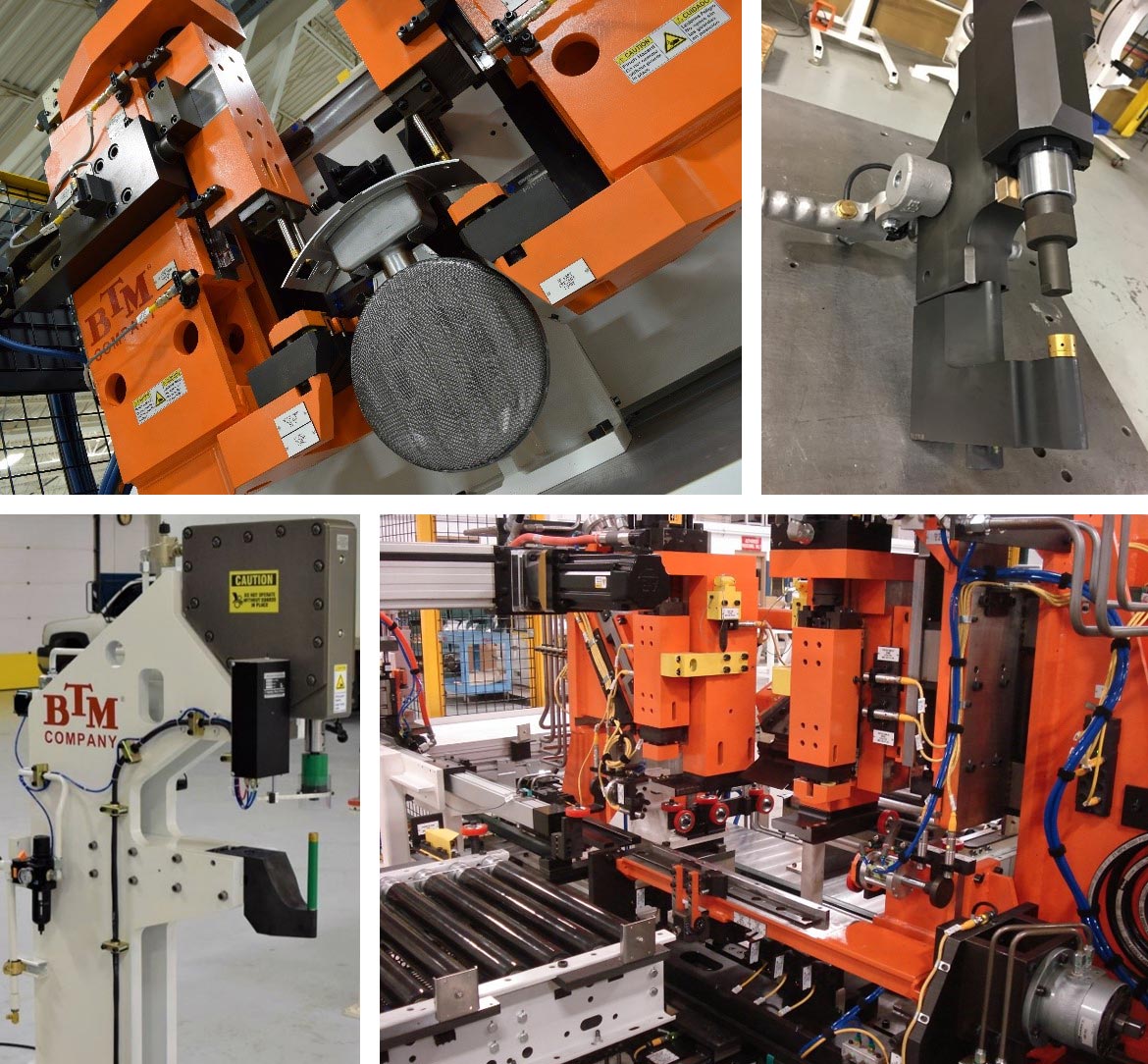 Garage & Entry Doors
From high-speed automated stile attachment systems and production line integration to manual workstations and clinch tooling, BTM has been a garage door and roll up door production equipment leader since 1983. Residential and commercial door manufacturers trust BTM for engineering, equipment and tooling that delivers industry leading throughput, efficiency, up-time, and production flexibility. Whatever your requirements, BTM partners with customers to deliver optimal solutions and exceptional after-sales support.
Garage Door Panels
Produce & Install Stiles
Install Stile Covers
Apply Adhesives
Install Astragal Retainers
Pierce Holes
Install Foam
Produce & Install Hinge Plates
Window Manufacture
Packaging Lines
Garage Door Guide Tracks
Assemble Guide Tracks
Attach Wing Clips & Mounting Plates
Entry Doors
Bending, Clinching & Piercing
Flexible Solutions
Panels Lengths from 2 foot to 30 foot
Auto Changeover: Panel Widths, Length & Material Thicknesses
Center, Single, Double, Triple End Stiles
Robotic Applications
Engineering & After-Sales Support
Comprehensive System Integration
New Station Integration in Existing Lines
Production Optimization Analysis
Conceptual Planning
Open Controls Architectures
Refurbishment & Upgrades
Clinch Joint Testing
Clinch Tooling Optimization
Replacement Tooling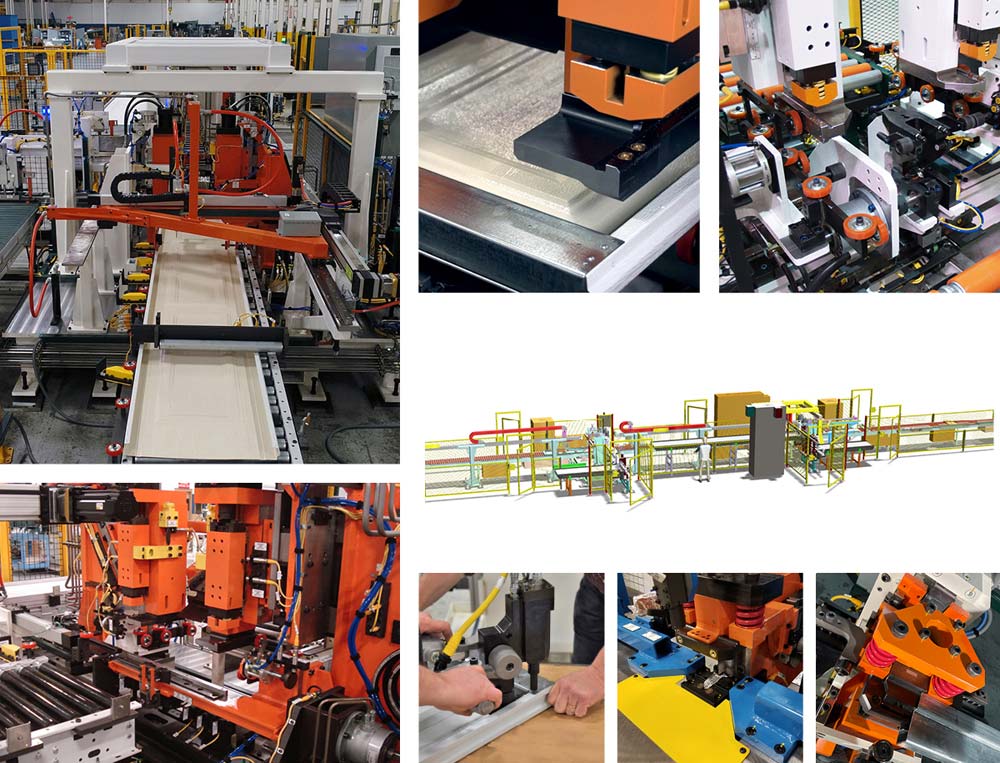 Semi-Trailer & RV
BTM has been providing engineered solutions to the semi-trailer, trailer and RV industries since the 1980s. From automated production cells to stand alone presses, BTM partners with OEMs and integrators to deliver world class manufacturing performance.
Clinching
Piercing
Riveting
Threaded Fasteners
Adhesive Systems
Advanced Automation
Roof Attachment
Side Panel to Top Rail
Side Panel to Bottom Rail
Bottom Rail To Frame Attachment
Roof Bow Attachment
Side Reinforcement Attachment
Hinge Piercing
Window Frame Assembly
Door Hinge Clinching
Air Handling Component Clinching
Utility Truck Component Clinching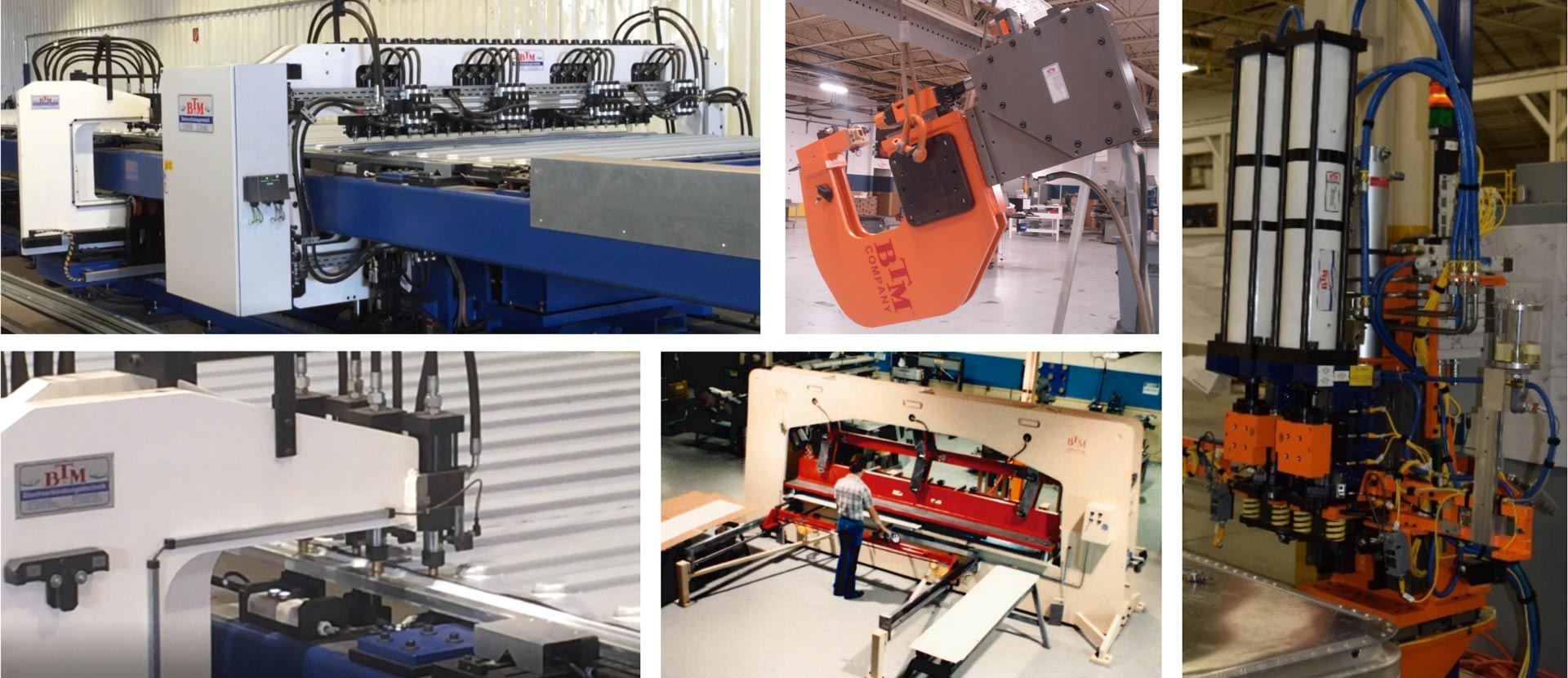 Electrical & Electronics
Oval-Loc™ tooling and equipment is the global leader for geometrically locked terminal joining and other electrical applications.
Fuse Box Connections
Terminal Connections
Cable Trays
Lighting Fixtures
Electrical Panels
Fan & Motor Housings
Motor Chassis
Battery Cables
Fuses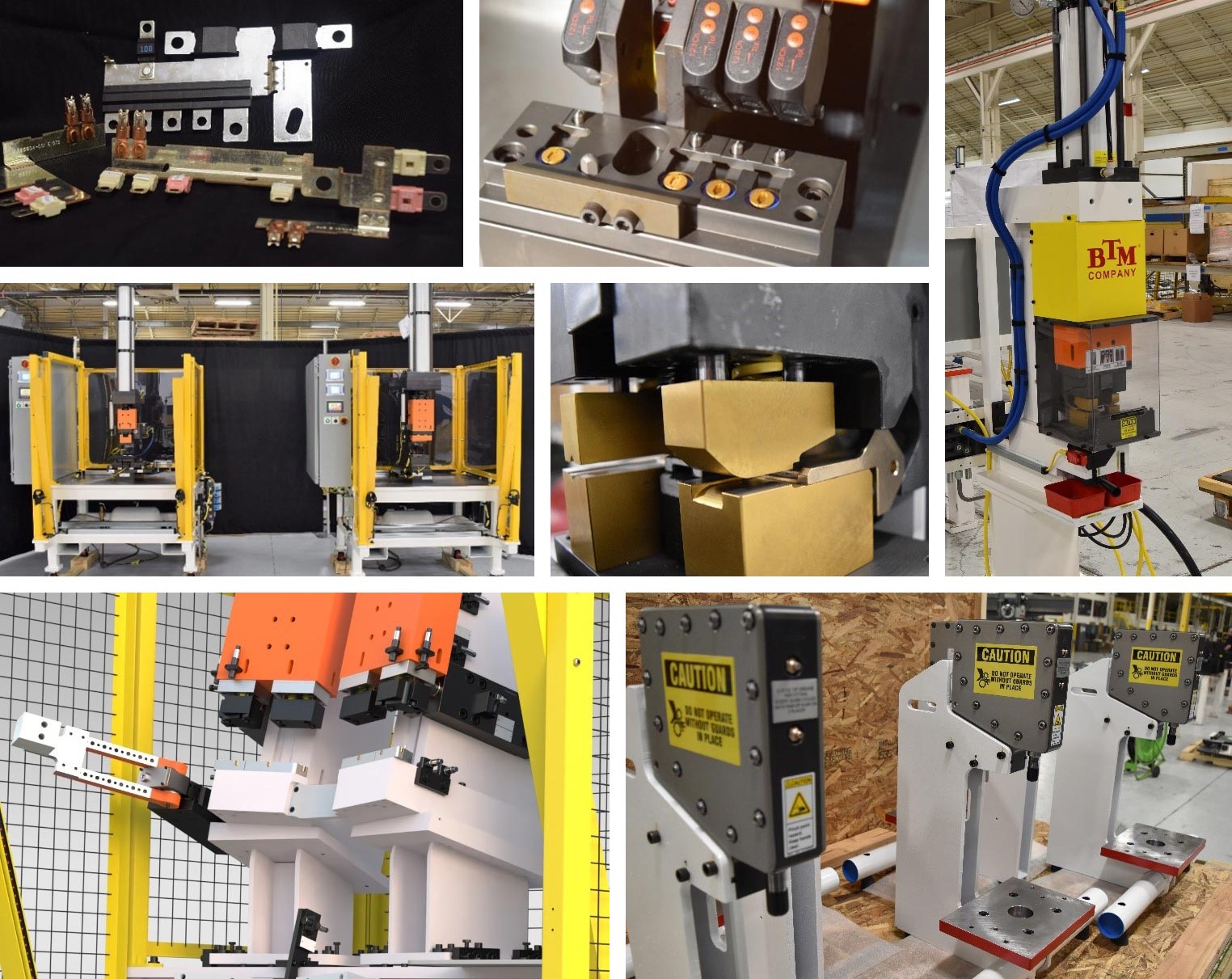 Furniture
BTM designs and manufactures tooling, equipment and systems for sheet metal joining, forming and bending for the furniture industry.
Drawers
Cabinet Drawer Tracks
Filing Cabinets
Shelving Systems
Cubical Components
Structural Components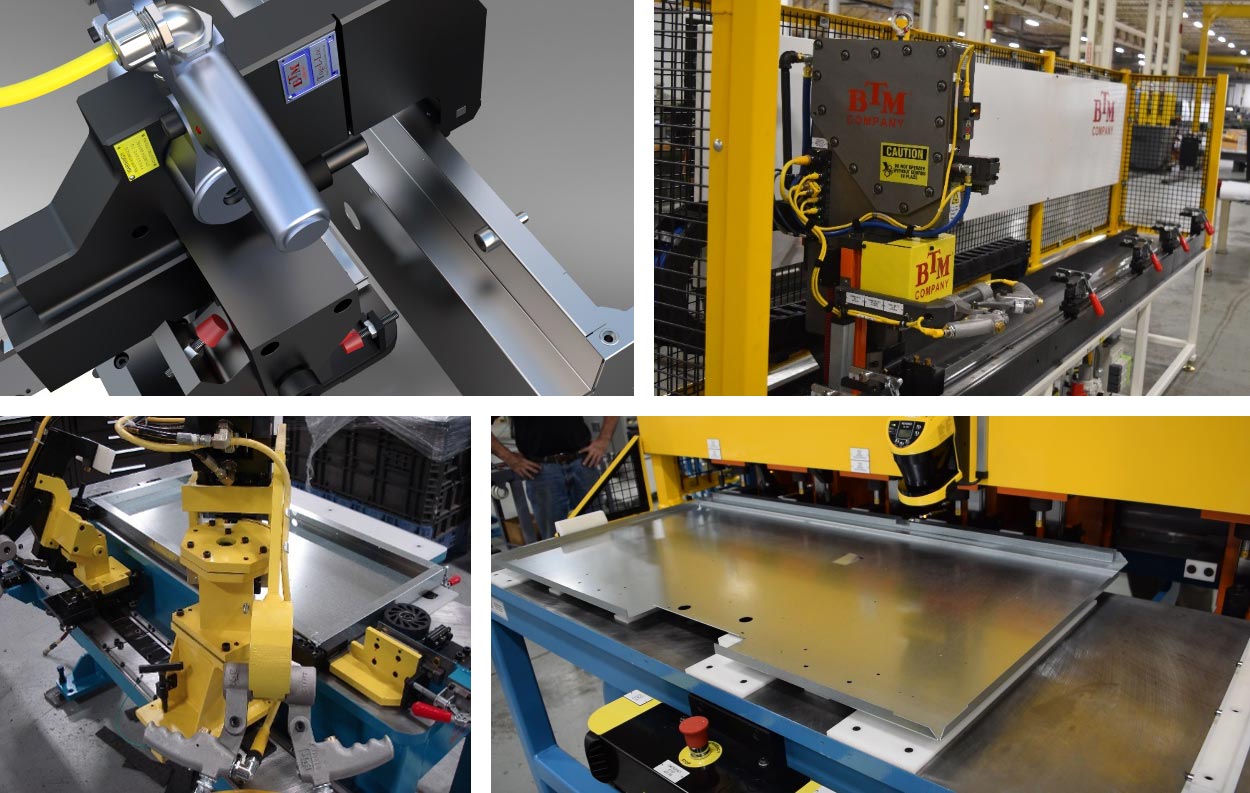 General Industry
BTM has standard products and creates custom solutions for sheet metal assembly and manufacture for a wide range of industries.
Semi-Trailers
Trailers
Recreational Vehicles
Inserted Fasteners for Heavy Equipment
Hinge-To-Frame Attachment
Filter Frames
Sheet Metal Roll Joining
Gas Burners
Boatbuilding
Metal Boxes
Channel Lettering
Structural Components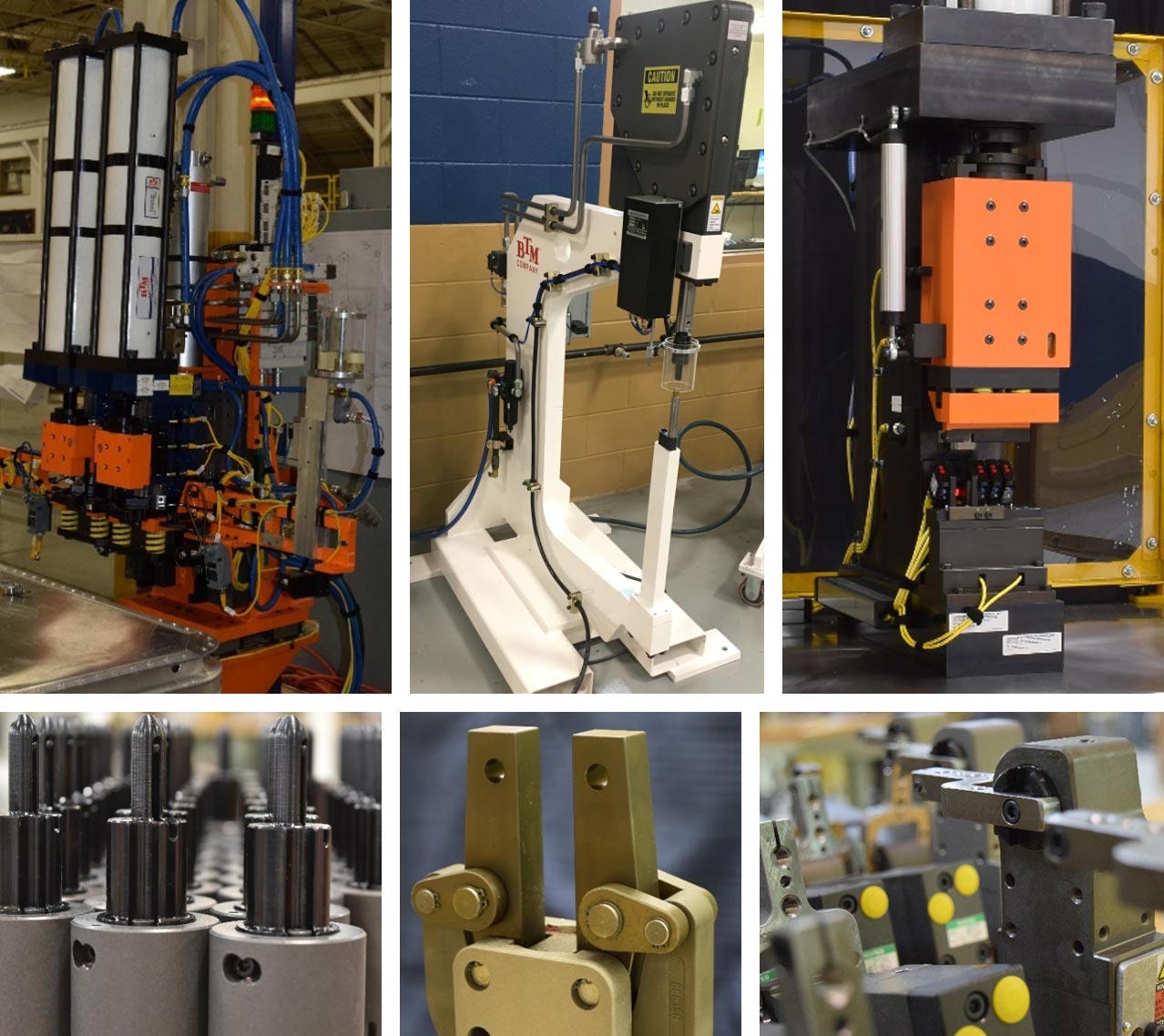 Robotic Integrators
Robotic systems integrators look to BTM for optimized robot-carried and robot-fed press units for clinching, piercing, riveting and mechanical fastener insertion. The BTM Modular Press Architecture meets needs that range from heavy-duty automotive work cells to light-duty cobot applications – it includes configurable and scalable pneumatic, air-over-oil, hydraulic and servo-electric power units that pair with standard & custom force frames to deliver solutions that minimize robot payload. BTM leverages our metallurgical lab and world class tooling, along with our performance monitoring expertise and aftersales support, to ensure production quality and throughput are unfailingly achieved. BTM pin clamps, power clamps and power grippers are ideal for robotic systems integrators who require industry leading engineering, technical performance and delivery timing.
Forming Operation
Clinching
Piercing
Inserted Fasteners
Riveting
Power Sources
Servo-Electric
Air-Over-Oil
Pneumatic
Hydraulic
Force Frames
Standard
Spider
Custom
Adapted Hand-Held
Work Holding
Pin Clamps
Power Clamps
Power Grippers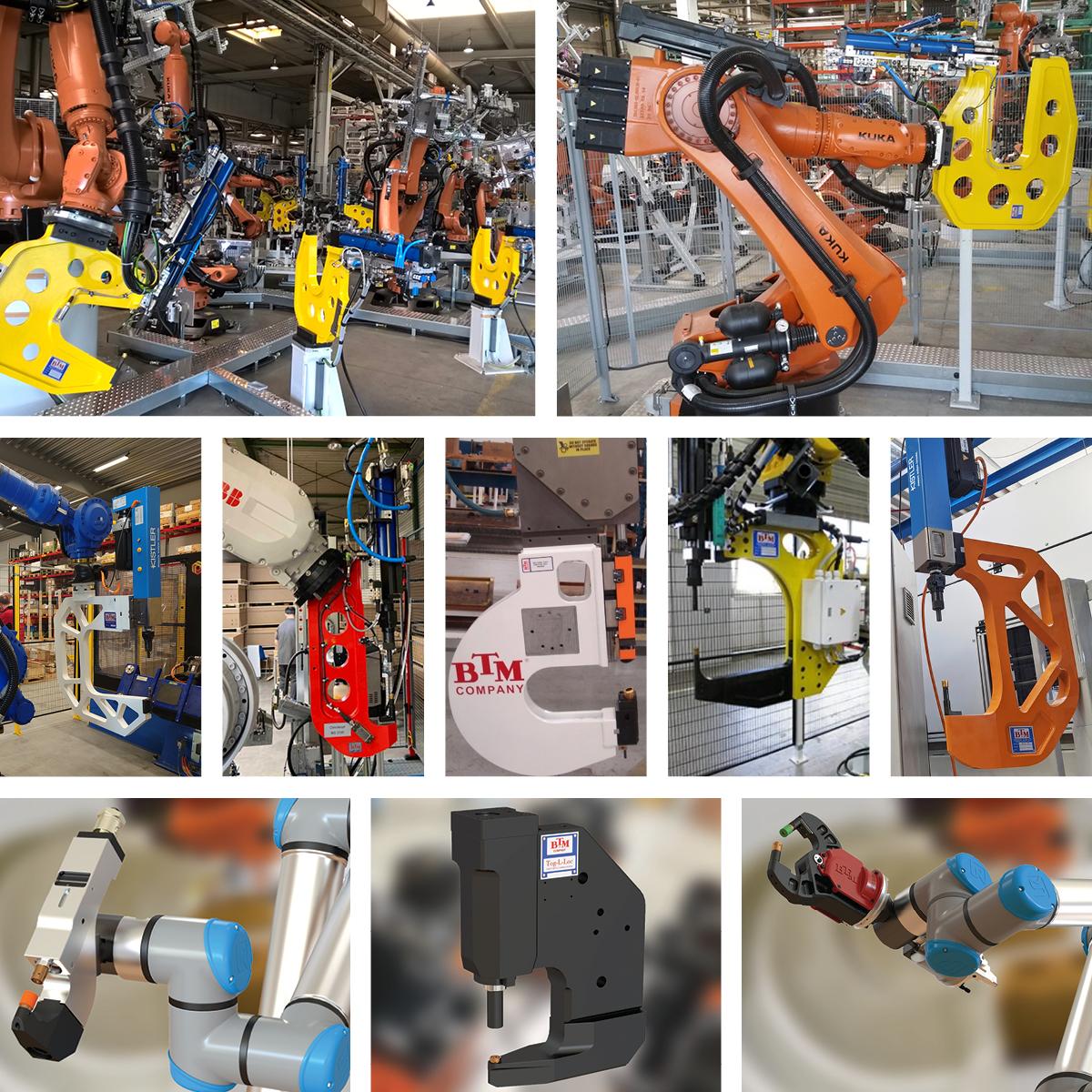 Machine Builders & System Integrators
BTM industry leading engineering supports your special machine and systems integration needs for standard and custom solutions while our flexible manufacturing ensures world class delivery timing.